vMix has been updated to Version 19!
Here are the recent changes/additions to this exciting software:
A long time in the making, vMix 19 will now give users the ability to do live interviews with ease! Long gone are the days of needing 3rd party hardware or software just to bring in remote callers! vMix has proven to be the most reliable and feature rich live streaming software whilst giving amazing performance through advanced GPU encoding. vMix 19 takes live production and streaming to levels not seen before.
Here is a video overview of these new features:
Here's a full list of changes!
Remote Guests Made Easy with vMix Call
The cornerstone feature of vMix 19 is vMix Call. vMix Call allows vMix users to add a remote guest just like a normal input, in fact, you can do it in 3 clicks! A long time in the making, vMix Call is an answer to all of those problems faced when attempting to bring remote guests to a live show. Users will no longer have to worry about audio echoes and mix-minus as vMix Call handles all of that! You don't need to add any additional software, vMix Call is built directly into vMix 19.
An easy connection for your guests
The beauty of vMix Call is the ease of use for the guests calling into the show. All they need is a webcam and the latest Chrome/Firefox/Opera browser installed.  The guest just needs to visit vMixcall.com, enter their Name + Password and they'll be connected to the show! This means that you're able to use desktop computers, laptops, and currently Android tablets or phones to connect to live guests.
Up to 8 callers
vMix 19 with vMix Call will give you the ability to add up to 8 live remote guests! Granted, you will need quite a computer and Internet connection to do so. vMix Call is available in vMix HD (1 guest) vMix 4K (2 Guests) and vMix PRO (8 Guests).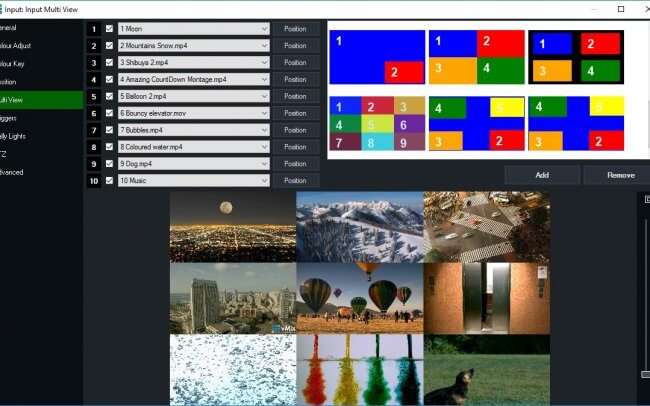 Double the Input Layers!
vMix 19 has doubled the Input Multi View layers to 10. You'll now be able to create double the layers on your inputs and will work great if you're looking to create an input with multiple callers. The Input Multi View in vMix works great for adding titles, logos, videos, gaming overlays and all kinds of content to your production's inputs.
Oops I did it again…
An UNDO button has been added to the vMix interface allowing you to go back a step if you accidentally close an input!

Here's a full list of New Features and Changes in vMix 19-
vMix Call
Add up to 8 remote guests to vMix quickly and easily with HD video and high quality full duplex audio.
vMix Call requires a copy of vMix HD (1 Guest), vMix 4K (2 Guests) or vMix Pro (8 Guests)
Each guest includes Automatic Mix minus for hassle free audio.
For more information see http://www.vmix.com/callhelp/
Inputs
Increased MultiView overlays from 5 to 10
Added checkbox to show/hide individual overlays
Drag/drop MultiView overlay numbers to change the render order (z order)
Added template to show 9 overlays on screen at the same time
Undo button added for acidentally closed inputs
Added number boxes to cropping sliders
Webcams will now default to MJPG which provides smoother frame rates at HD resolutions
Added support for RTSP streams containing LATM AAC audio such as the Matrox Monarch HD
Shortcuts
PTZ
Added CGI PTZ support for the Sony SRG-360 series
Virtual Sets
Added 36 new MultiView Virtual Set templates for vMix Call
Zoom previews will now update when changing layers. This is handy when building a custom set using the included Blank template.
Added ability to drag and shift-zoom to set positions in the Zoom Editor window
MultiCorder
Added automatic resume support to MultiCorder
If a source changes resolution or is reset, MultiCorder will restart recording automatically
Bug Fixes
Fixed Key/Fill not working independently with virtual inputs
Fixed some inputs not updating correctly when anti-aliasing is enabled
Fixed NDI showing very low resolution when anti-aliasing is enabled
Fixed NDI thumbnails not updating in some cases
Improved error messages when Decklink card does not support the selected format (such as 1080p50/60 on older cards)